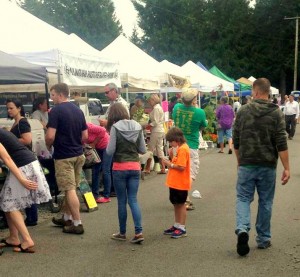 In the past two years as manager of the Yelm Farmers Market, Karen Rae has done a fantastic job of increasing attendance and sales, attracting sponsorships and implementing new programs. In 2016, Karen is moving on to her next adventure and the Yelm Cooperative is seeking a new Farmers Market Manager.
Every Sunday from late May until the end of October, the market is a community gathering place, attracting families from around the South Sound. Live music, a popular children's program that allows kids to interact directly with the farmers, and more than 25 unique vendors create a welcoming atmosphere for anyone who enjoys fresh, locally grown food and locally produced crafts.
The Market Director is the master of ceremonies, coordinating with vendors, sponsors, musicians, and volunteers to make the market happen every week. The role is demanding, rewarding, and ideal for an individual who combines people skills, big picture thinking, and organizational ability. 
The market's mission is to build community and to create a place for local farmers, producers and artisans to build relationships with their community and open up new outlets for their products. The Farmers Market also strives to:
give support to small farmers who want to develop new skills of direct marketing to their customers

provide a place for the community to become directly involved in local food and the farmers who grow it

bolster community spirit and excitement about local seasonal produce and sustainable food practices

cultivate an atmosphere of learning to the public by providing customers with free educational opportunities, how-to information on farming, and advice on storing fresh foods

encourage giving through donations of excess product to local charities
To view a full job description, download an application and learn more about the position's scope of work, click here.
We look forward to hearing from you!
Read More