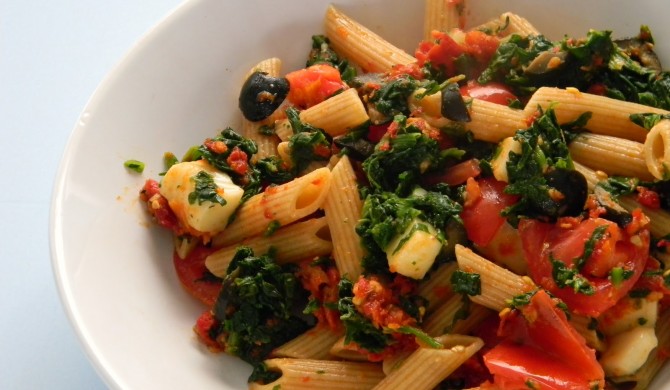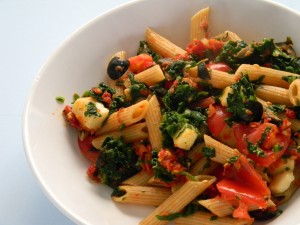 Several weeks ago, Manager Debbie Burgan stated a goal: for more customers and members to shop first at the Co-op, and look elsewhere only if they couldn't find what they were looking for. So how does that translate into regular meals for everyone from vegetarians to people who are new at trying to eat healthy? We asked chef Blu Helida to take a look at what the Co-op offers and consider the issue from a meal-planning perspective.
In her eyes, the store has the right inventory for a diverse group of shoppers.  "The Co-op offers so much to choose from for everyone from vegans to people who want roast dinners," she says. "There's everything from the simple to the exotic."
She looked at potential meals according to which type of customer would be doing the shopping. "If you're gluten-free,vegan, or vegetarian, there are a lot of options for you," she says. "For people who are new to the Co-op, look for things that are similar to what you normally buy. It's all there. If you're going to make pasta, it's all the same ingredients, but the penne might be gluten-free, the tomato sauce is probably organic and you can use a substitute for meat if you want to."
Meat lovers who care about locally-sourced food can find pork sausage that goes well with Olykraut sauerkraut or whole chicken that can be roasted with vegetables.  "They could also do curries, many different beef dishes or roasts," she says. Those who are feeling more adventurous can find the ingredients for Asian chicken noodle soup, fajitas and a variety of other less common fare.
Vegetarians also have a lot options. "They can use locally made sauces, dressings and salsa or buy fresh ingredients and make their own.  If you're looking for ways to add flavor or spice, there are plenty of choices for you to create your own fusion dish," says Blu.
She is a global traveler who's had the opportunity to learn about a wide variety of cuisines from far-flung places, including Japan, Sri Lanka, Morocco and many more. She has also participated in the organic food movement as both chef and gardener, and she knows what it's like trying to shop for specific diet preferences. Her conclusion: "There's enough at the Co-op that you can make the meal that you want, whatever your tastes."
We hope this encourages you to plan your next breakfasts, lunches and dinners with the Co-op in mind. Thank you Chef Blu!
Read More