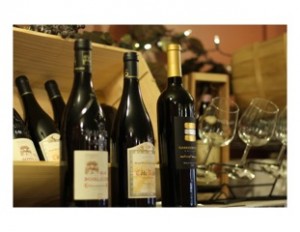 If you're hosting Thanksgiving this year, now's your chance to find out the answer to the all-important question: What wine should you be serving? Whether your turkey is simply seasoned with salt and pepper, herb-infused, or spicy cajun, the Wine Cellar of Yelm's "Virtuose de Vin" Anne Marsh can help to find the perfect bottle(s) for you and your guests.
In the days leading up to the holiday, Anne will be offering tastings and free consultations at the Wine Cellar. Here's the schedule:  
Saturday, November 21st   12:00 to 5:00
Monday, November 23rd   2:00 to 4:00
Tuesday, November 24th 2:00 to 5:00
Wednesday, November 25th 12:00 to close
If you can't make it into the store or want to get a jump start on your grocery shopping, Anne has recommendations to get you started.
Reds
Basic simply seasoned turkey:  "You can pair that with any light to medium bodied dry red. I like Rhone reds, meaning a Syrah-Grenache blends," she says.
Example: Domaine Boisson Cotes du Rhone
Herbed Turkey: With this style of bird, you can explore bigger, fuller-bodied Cotes du Rhones. "One wouldn't normally associate white meat bird with a big powerful red wine, but it depends upon how you do the stuffing, and how you herb it," says Anne.  "When you consider the gravy and the potatoes and typical rich side dishes, you've got all the fat to cut through the tannins, plus the bigness of the herbs rounds it out."
Example: Vacqueyras, Domaine Le Couroulu
Cajun Turkey: "Hot and spicy goes great with fruity wine," says Anne. Most people think the only red that would be appropriate for a turkey would be Beaujolais Nouveau. It actually is a really great wine if you've got that Cajun style or hot spicy dirty rice stuffing. I offer an alternative called Fleurie or an Italian red called Matte that pair perfectly with that syle."
Example: Fleurie, Domaine de la Chapelle des Bois
Other than Turkey: For wines that will go with pork, turkey, lamb or duck,  Anne recommends Pinot Noir especially from Burgundy France.
Example: Lou Dumont Savigny les Beune
Roses and Whites
"Rose is not just your light, when it's hot outside wine," says Anne.   "I have an array of rose wines that will compliment your turkey feast and these wines are full bodied, dry and not at all sweet." She will be opening a Beaujolais Blanc as well as a non-vintage Grand Cru Champagne for tasting, along with a Soave Brut sparkling wine.
Examples: Belleruche Cotes du Rhone Rose
After dinner
"We have a great selection of Finnriver organic wines made in Washington. I'm going to open their Blueberry Brandy for tasting. It's great after dinner," says Anne.  "I'm also opening a Late Bottle Vintage Port and a Vermouth. Vermouth is yummy poured right over ice. You can have it while you're cooking or after dinner."
Example: Finnriver Black Currant Brandy
Anne's specialty is pairing wine and food, and she offers free consultations for dinner parties and gatherings any time of the year. Consultations are complimentary with your wine purchase and many folks love the experience of tasting and choosing their wines. It gives them a confidence in serving the wines they wouldn't normally have." says Anne.  "If you tell me your recipe, I will point you to the exact bottle that not only will fit your budget, but you'll love it with your meal. It will be a whole new experience."  
Read More