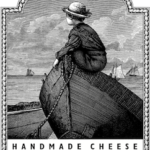 So you like cheese – but it has to be good, well made and without a bunch of stuff in there that you don't want to eat. That's what the buyers at the Yelm Food Co-op aim for when they look for products for the store.
So it's no wonder that they buy Beecher's Handmade Cheese from Seattle!(https://www.beechershandmadecheese.com/)
Kurt Beecher Dammeier opened in 2003 in Pike Place Market and to this day they start with fresh, pure milk from local farms and apply the traditional methods used by cheesemakers for thousands of years, so the cheeses are free of artificial ingredients – making them just as delicious as the milk they are made from.
And still today, their mission is:
Beecher's Handmade Cheese makes food only with ingredients we trust, are proud of, and would eat ourselves. It's just authentic and original food, full of flavor.
"Their sharp cheddar is the best!", says one of our satisfied member/customers. Try it and let us know, too!
xxx
Read More