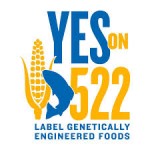 The Yelm Cooperative's Community Food Education Program is happy to announce that we have final dates. times and a venue for the two dynamic speakers that are coming to Yelm to speak about the issue of GMOs and GMO labeling.
Make sure to mark you calendars – you won't want to miss either of them!
Howard Vlieger, the Iowa farmer involved in the GMO issue since the early 90's:
Thursday, Sept 12th from 6:00 p.m. – 9:00 p.m.
Pamm Larry, who started the whole Prop 37 initiative in CA:
Tues, Sept 17th from 5:00 p.m. – 7:00 p.m.
For more on both Howard and Pamm, see this previous post:
http://yelmfood.coop/2013/08/learn-about-1-522-from-top-speakers-in-yelm/
To listen to Pamm speak, you can watch the video here:
http://yelmfood.coop/2013/08/522-gmo-labeling-meeet-pamm-larry/
Remember: Information is Power!
Read More
GMO