Core Co-op Board Members Move on After Years of Contribution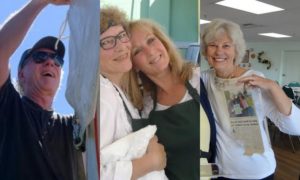 If you've been to any Co-op event, you've seen them in action – hammering nails, setting up tents, organizing volunteers, putting up signs, and schlepping turkeys from place to place. But what you haven't seen is all the work that Co-op Board President Bill Wyman, Secretary Marilyn Reardon, and former Vice-President Barbara Morando put in behind the scenes.
In their combined 17 years on the board, they have pored over finances, made difficult decisions, and spent countless hours making sure the Yelm Cooperative would not just continue but expand. Now all three have moved on, either because their terms expired or life took them in a different direction; Barbara as of May, Marilyn as of August, and Bill as of September. They leave a legacy of practical contribution and strong vision.
Farmers Market Manager Suzanne Santos noted their exceptional level of commitment. "I always felt like they were invested in the organization and that they contributed above and beyond," she says.
"Bill made a major commitment to this store that has secured a strong future for the organization," says Co-op General Manager Barnaby Urich Rintz. "From relocating to a better location for YFC to helping find an effective general manager to developing the Farmers Market, Bill has improved the access and education of sustainable food for the Yelm community."
Current board president Tom Dewell notes that Bill was "always holding a long term vision, keeping us four or five years out in our thinking."  He also did whatever was necessary to get the job done. "Bill was always willing to jump in and contribute to every project that we had going," says board member Terry Kaminski. "Behind the scenes, in front of the scenes, in the middle of a hot dog stand, wherever, he just did it."  
Marilyn, meanwhile brought "an extraordinary level of attention to our overall workings," says Terry. That often meant taking on projects like Beer & Brats or the Working Members Holiday celebration. "Marilyn is unlike many community organizers that I've met," says Barnaby. "Some of them will say, 'Something needs to be done,' but when given the opportunity to help, they say, 'Anyone but me.' Marilyn would always say, 'Something needs to be done and I have experience with this type of work. How may I help?'"
During her tenure, Barbara took responsibility for the annual Gift of Gobble event, which grew to serve 126 families. She also organized the Working Member celebration for several years running. "You could always tell if Barbara was involved in something because not only would it be very well organized, everything would be visually amazing," says board member Heidi Smith.
Terry agrees. "She was incredibly organized with attention to detail and she always made everything look great. No one can top the turkey feather headbands she came up with for the Gift of Gobble. We had to wear them or we weren't allowed to participate!"
A thousand thanks to Bill, Marilyn and Barbara for all of your energy and focus on making our community a healthier and more vibrant place!