Our Annual General Meeting on Saturday, Sept 5th was a great success.
We had presentations by Bill Wyman, the Board President, Barbaby Urich-Rintz, the YFC General Manager, and Karen Rae, the Farmers Market Manager.
The highlight was the celebration of the 10th anniversary of the founding of the Yelm Cooperative on Sept 15, 2005.
On that day the following Founders signed the Article of Incorporation bringing the organization to life:
Ektara Jareck, Carolyn Sheldon, Jackie Jo Reid, Maggie Sayer,  Iris Moore, Christine Verdagamo, Alexandria Roberts,  Fran White, Beverly Wright, Laura Losada, Marilee Wallace
Ektara, Carolyn, Jackie, Maggie, Iris and Christine were in attendance at the AGM and got recognized individually and presented with a card and a beautiful bouquet of flowers.

After the meeting we feasted on goodies from the YFC and 3 fabulous cakes, one in the shape of a "1" and one in the shape of a "0" for the "10" (10th year) and another magnificent "skyscraper" chocolate cake.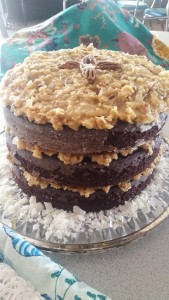 If you missed it this year, you can still vote for the Directors by picking up a ballot at the Yelm Food Co-op and you can see the presentation at the link below (it's a pdf file – you'll need Adobe Acrobat Reader to view it) .
This is your Cooperative and you have a voice!
Read More
2015 AGM