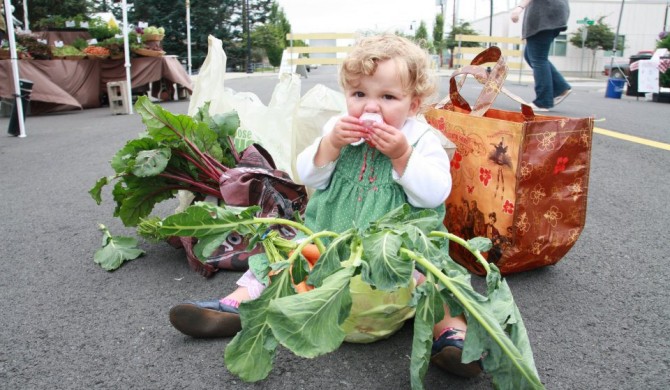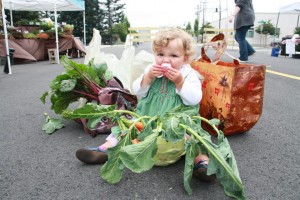 Good news, parents! Your kids will have a whole new reason to get excited about the Yelm Farmers Market this season. Don't be surprised if they develop a passion for vegetables and start shopping without you. Other side effects may include financial literacy, a sudden interest in gardening and newfound haggling skills.
The source of all this excitement is a program called The Power of Produce, which was originally developed by The Oregon City Farmers Market four years ago. "It was so successful that markets all around the country are now taking it on," says Market Manager Karen Rae. "The idea is to introduce children to vegetables and fruit by having a kids' club at the market."
Children ages 5 to 12 can join the free club, at which point they're given a badge and a small shopping bag. "When they come back every week and register, they get two dollars of market tokens that they get to spend on fruit or vegetables or a plant that grows food," Karen explains. "They get to choose."
Although the original purpose of the club was to empower kids to make healthy food choices, the benefits have proven to be much greater. "They've found that the kids become much more involved in the market," says Karen. "It's no longer just mom and dad going to the market with the kids dragged along behind, it's now their shopping experience as well. They are getting to interact with the farmers directly and try all these new things. Parents are just thrilled with what's happening, because kids are driving the purchase of vegetables and fruit and eating differently."
 Another benefit is financial literacy. "The groups who are monitoring the success of the program are seeing kids saving their tokens for several weeks or pooling with their siblings," she says. "They're not spending their money that week, but saving for plants or bigger items. In this day and age I don't know how many kids get to deal with actual currency."
Karen is currently accepting sponsors for the program, which she hopes will run during all 22

Sunday

markets. "What other markets have found is that as long as they have enough sponsorship to get off the ground, the community sees the value of the program and no one wants it to stop because it's run out of funding," she says.
If you're interested in learning more about sponsorship opportunities, contact Karen Rae at 360-894-1164 or yelmfarmersmarket@gmail.com  Sponsorship and donation information is also directly available on the website www.yelmfarmersmarket.com.
Read More