Farmers Markets Create Jobs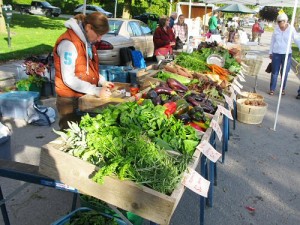 We are working hard to get the city government to broaden the rules for farmers markets so that we can build a really great one in Yelm.
This article on Triple Pundit provides some hard data that supports our position that a farmers market in Yelm would be good for local farmers, for local shoppers and for the economy.
Even the federal government recognizes this fact; they just seem to think huge subsidies for mega-farms and bombs is more important than supporting local communities. But, we can change their minds!
Here's a fact from the article:
…local farmers markets in the U.S. doubled from 2,863 in 2000 to 6,132 in 2010 and over 100,000 farmers are selling their products to customers directly.
This came from a report released this month by the Union of Concerned Scientists (UCS) entitled Market Forces: Creating Jobs through Public Investment in Local and Regional Food Systems.
The growth of the farmers markets is not really due to government help. The article goes on to say: "This proliferation was not bolstered by federal spending. In fact, the report states quite the opposite, that USDA invested $13.7 billion on commodity, crop insurance and supplemental disaster assistance payments that aided big industrial farms. When it came to local and regional food system farmers, however, they spent less than $100 million."
Help us push the city officials to update their policies and procedures for farmers markets and then help us build on that will blow their minds!
farmers markets