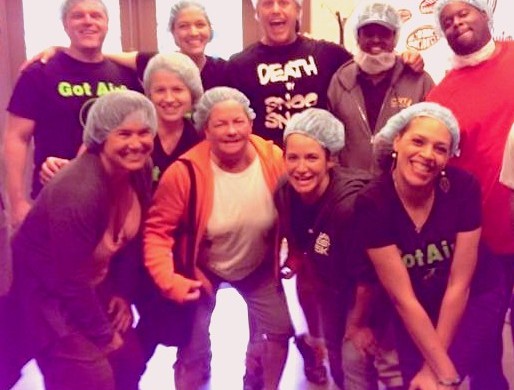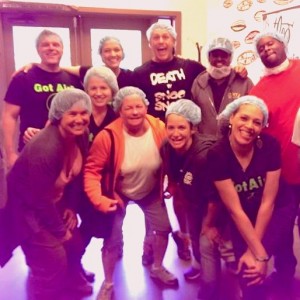 We dare you: try not to think about Oompa Loompas while touring the Theo ChocolateFactory. It's tougher than you think. Learning about the multiple chocolate waterfalls and large pipes the molten river flows through, it's hard not to imagine that Augustus Gloop and company might be haunting the company's Fremont premises. The Seattle-based organization makes the only certified organic, fair trade and non-GMO bean to bar chocolate in North America. On top of that, their products are absolutely delicious, as a contingent from Yelm found out last weekend during a field trip to the factory.
The group included Amy Honey and Jamie Honey of Yelm Bootcamp and a lively gang from New Leaf Hyperbarics. Everyone came away with a new level of respect for what it takes to create chocolate and an appreciation of the exceptional standards Theo Chocolate holds itself to. "All of the work that has to be done by hand before you even get the bean to make the chocolate, that was amazing to me," says Amy.
Jamie was struck by the emphasis on fair trade. When Theo founder Joe Whinney became the first supplier of organic cocoa beans to the U.S. in 1994, he observed how farmers in Central America and Africa were being exploited, and determined to make a difference. After starting Theo in 2006, he teamed up with actor/director Ben Affleck to create the Eastern Congo Initiative, which provides support for more than 20,000 people living in East Congo. "I loved the fact that every single person along the line is paid well," says Jamie.
It helps that the chocolate itself is incredible. The tour included samples, and it was hard to pick a favorite, but both Jamie and Amy commented on the milk chocolate with chai spices and the ganache with strawberry jalepeno.  They highly recommend the tour and plan to do it again. "It was joyful, educational, experiential and it tasted delicious," says Jamie. "What more could you get in an hour?"
Theo Chocolate has its own rack at the Yelm Food Co-op. Try it today!
Read More