Gift of Gobble Changes Lives During Holiday Season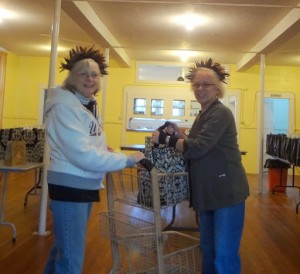 At the end of last year's Gift of Gobble, a woman came in unexpectedly at the last minute. "She was losing everything, and she had several families living with her," says Carol Franks, who volunteers at the event every year. "We didn't think we had any meals left."
Equally unexpected, another woman showed up who been nominated to receive the full holiday meal, including turkey with all of the fixings, side dishes, and pumpkin pie. "She walked in to tell us that she didn't need the meal this year. Things had turned around this year and she wanted it to go to someone else." They were able to supply the first woman with everything she needed.
"There were a lot of joy and tears for everyone," says Carol. "It was just incredible for all of us. We have special moments like that every year where all of us get to know that we were making a difference in people's lives."
Nominations for this year's Gift of Gobble are now open, and the Yelm Co-op will be accepting financial donations. A donation of $60.00 will feed a family of six. This year's goal is to feed 125 families and raise $8,000.
Linda Shub has also been volunteering with the event for several years, and she says it has evolved.  "The word is getting out and people are more aware that it's going on so it's not such a mystery," she says. "There's more joy.  People aren't as anxious about coming in and receiving or about getting it right when they're giving it out."
Both Carol and Linda say their motivation to volunteer every year comes from the people involved. "It's the whole process and seeing so many people come and walk away a little lighter in their step," says Linda. Carol says there's also a seasonal component. "Fall is the season of putting everything up –  the abundance of the labor of the summer," she says.  "I've always loved this time of year and I love sharing it with other people so they have that sense of abundance and know that there's support. I also love working with the other volunteers because everyone is like-minded. We all have a common goal, and that's a lovely thing to be a part of."
The event is fully staffed with volunteers for the day the meals are distributed, but Linda says that everyone who contributes financially is part of the outcome. "They won't be able to see the comfort it gives people and the joy, both for the volunteers and the receivers and it would be nice if they could participate in that wonderful feeling," she says.
To nominate a family or make a financial contribution to Gift of Gobble, please visit the Yelm Food Cooperative.