Nali Naturals = Great Gifts for Procrastinating Holiday Shoppers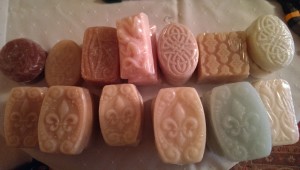 Anita Jones didn't want to make soap. Her passion was naturopathic and homeopathic medicine, which she'd studied since the early 70's. In her Nali Natural Body Care line, she offered high quality European soaps along with her own creations.
But a little voice kept telling her to make her own, and one day as she was leafing through a merchandising catalog, she turned the page and there was a soap making kit. "I decided to try this and see what happens," she says.
Nine years later, Nali Natural Body Care includes 24 varieties of 100% glycerin soap along with five butter lotions, scented dead sea salts, body and facial salts, and bath salt soak bags.
She started her business in 2006 because she wanted a small ticket item to sell in her downtown Tacoma antique store. Instead, "The skin care outsold the antiques," she says. "The antiques are in the garage."  Eventually she began selling her products online and next year is looking to expand around the country into markets like Chicago.
Anita's formulas and recipes are all proprietary, as is her process. She combines ingredients that helped her cure acute eczema after her doctor couldn't help her. "I learned how to cure it myself," she says. "I was finding that people were coming into the store asking for something for eczema."
Both online and in person, she has a strong base of repeat customers. "What keeps me doing this is the customers' feedback," she says.  "When I see them again, tell me that whatever issue I recommended a particular soap for, it's resolved or resolving. It's getting back to nature and using stuff that's good for you. I see the results on my own body. I test everything on myself, but I test it across a wide demographic as well."
After beginning life as small ticket items for her now defunct antiques store, many of her products are still the perfect inexpensive gift for a co-worker or friend, she says. For the procrastinating shoppers among us, there's still time to pick them up in the health and beauty section at the Yelm Food Co-op.