Natural Cosmetics + Wine Tasting = Extra Happy Hour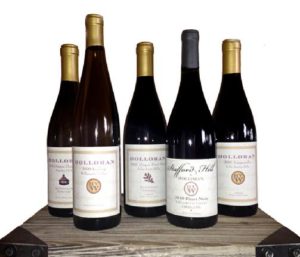 As a general rule, Florence Vincent hates cosmetics. In fact, she hasn't worn them in years. But recently she discovered a Seattle-based company that creates organic, vegan, and gluten-free products. "I researched Gabriel Cosmetics and their products before bringing them into the store," says Florence. "Their ingredients are very clean. After seeing how fabulous everyone else looked I felt I needed to give it a try. I'm wearing makeup for the first time in a long time."
On October 28th, representatives from the company will be giving product demonstrations in the store. At the same time, the Wine Cellar of Yelm's Anne Marsh will be hosting Chris Smeaton of Holloran Vineyards for a special Pinot Noir tasting. "People can enjoy the makeup and come taste the wine," says Marsh (to be clear, the makeup would come first, followed by the wine).
Gabriel Cosmetics was founded by aesthetician Gabriel DeSantino who was first introduced to the natural approach by a grandmother who used botanical seaweed from the ocean for skin care. "Growing up with someone who was passionate about makeup and skin care was a big influence on him," says Janaea Riddle, co-owner of P3 Connections which represents the company. "When he started in the business 24 years ago, there wasn't anything natural on the market. He was one of the pioneers."
She often hears from people who are allergic to most brands of cosmetics. "They find our makeup and realize that they can use it," she says. "One of the greatest rewards is to know that we're not only fashion forward but changing lives by giving people opportunities that they otherwise wouldn't have."
In a similar vein, the Pinot Noir that Smeaton will be introducing on Friday was created 'without intervention.' "That means the grapes go in and the wine comes out on in its own time," says Marsh. "There are no additives and no filtration, which means no animal products, sawdust or junk. This is pure wine, made by nature and the love of a very great winemaker."  The Happy Hour will run from 4:00 – 7:00.  
Like Florence, Anne has also become a convert to Gabriel Cosmetics. "I prefer a very natural look," she says. "This makeup is so good for the skin and even makes your skin look healthier. It doesn't accentuate lines, and for the first time in my life I have mascara that stays on my lashes and doesn't get smeared under my eyes, yet washes away easily with soap and water."  
On the 28th, Janaea and one of her colleagues will be on hand from 3:30 to 5:30 to provide makeup tips, color matches and advice on holiday lipstick as well as answer any questions. "We think makeup should include elements of fun and education, and we like to offer both," she says.