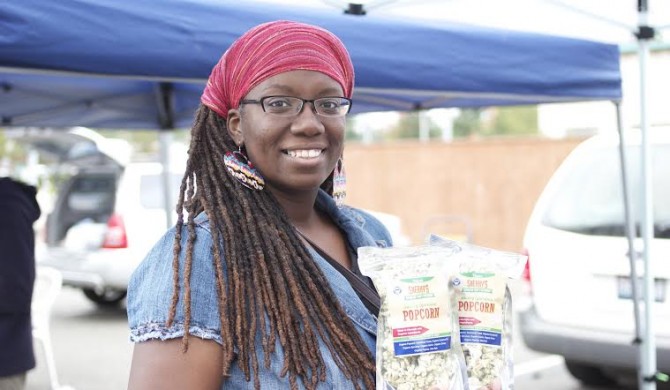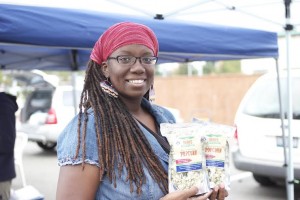 There you are, strolling the aisles of the Co-op and virtuously filling your cart with fruit, vegetables, and a few products whose names you can't pronounce but they look healthy. Your intentions are good, your heart is pure – and then you get home. "If you're like me, you buy all of these healthy foods but then the first thing to go is a bag of potato chips,"says Tish Watford. "Where we tend to break down a lot is in the snack department." Her solution was to invent Sneaky's, popcorn dusted with nutrient rich spirulina powder that is made of all organic, non-GMO, gluten-free ingredients.
"I hope that people will see it as a way of creatively incorporating  superfoods in something other than smoothies," she says, "especially parents. Maybe it will light a creative spark." She also hopes that Sneaky's will help people "rethink what they're buying; each ingredient and the purpose it serves. In the broader sense, it's about understanding what's in our food. Why is this in here?"
"Where we tend to break down a lot is in the snack department."
Tish's first taste-testers were her parents. She was living in a small town in Alabama that didn't really have any healthy food options. After a visit to neighboring Tuscaloosa, she brought home some spirulina. Her son wanted popcorn, so she decided to experiment with it. "It was a little salty at first," she laughs. Since moving to Olympia, she's perfected the product and introduced it into local health food stores, including the Yelm Food Co-op.
Before launching Sneaky's, the only business she'd owned was in tax preparation. Tish holds a master's degree in accounting and financial management. "The food world is so much different from offering a service," she says. "It's so good to be in this area. I've learned a lot on my own but also from other Olympia-area foodpreneurs. Everyone is ready to share their knowledge."
Her next step is an alternative version of kettle corn "without the corn syrup," she says. For now, look for spirulina Sneaky's in the snack section of the Yelm Food Co-op. You can put it right next to your vegetables.
Photo by Jennifer Crain
Read More