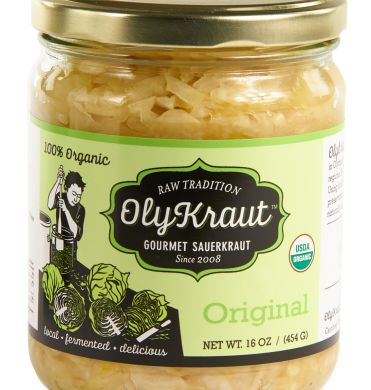 Olykraut May Have You Rethinking Your Relationship with Sauerkraut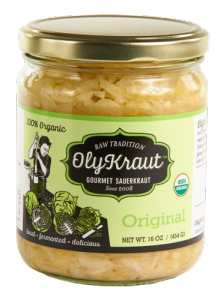 Multiple choice question. Which best describes your feelings about sauerkraut?
Love it!
I enjoy it during Oktoberfest, accompanied by a large stein
I know it's really healthy, but . . . no thanks
Sauerkraut?
Whichever category you fall into, get ready for a new experience. Olympia-based Olykraut has developed its own line of locally sourced, certified organic sauerkraut with year-round flavors like Spicy Garlic, Smoke & Kale and Eastern European. Additionally, they have seasonal flavors like Curry, Nettle, Sea Greens, and Cumin Jalapeno that are in high demand. "We get a lot of messages wondering when our seasonal flavors are going to be ready," says Marketing and Communications Manager Carley Mattern.
Recently, the company won a 2015 Good Food Award.  The winners were chosen from 1,462 entries in a blind taste test by 182 judges. Good Food Awards describes the winners as being at "the forefront of American craft food, making products that are delicious, respectful of the environment, and connected to communities and cultural traditions." In Mattern's words, Olykraut is "working to grow our local food system, support our local farmers, and increase access to fresh local foods for consumers. We also try to be as environmentally sustainable as we can in our
decisions."
That's not surprising, given the company's origins. Sash Sunday, one of the founders, has an MBA in Sustainable Systems and studied Food, Fermentation and Sustainable Agriculture at the Evergreen State College. "Sash wants to get people excited about eating delicious and nutritious fermented foods," says Mattern.
Nutritious is right. Sauerkraut functions as a natural probiotic and is rich in vitamin C, which is why in bygone days sailors, including Captain Cook, took it on long sea voyages to prevent scurvy. With the variety of flavors that Olykraut offers, eating healthy just got a little more appetizing.
Olykraut products are available at the Yelm Food Cooperative in the refrigerator near the herbs and teas.