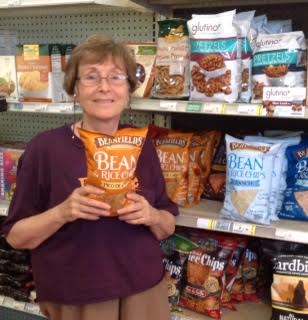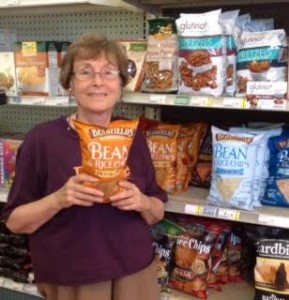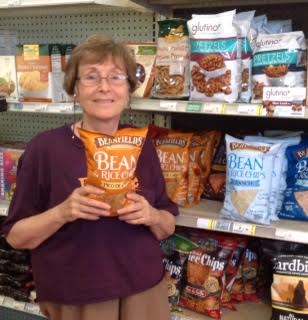 Every October, Florence Vincent launches a personal campaign to label foods that contain GMOs (genetically modified organisms). Although the U.S. government and the state of Washington have yet to join the 64 countries around the world* that mandate labeling, including Vietnam, Jordan, Sri Lanka and most of the European Union, for one month in one small corner of Yelm you can find out exactly what's in your food. That corner? The Yelm Food Co-op.
"I go around the store and I label everything. I look at all the packaging," she says.  "Anything that is organic is automatically GMO-free, but with anything that doesn't say so on the package or have a non-GMO verified label on it, I look up the company and find out what their policies are. I've been doing that for quite a few years."  Fortunately, she says, "We have very, very little in the store that is not GMO-free."
Florence's passion for the subject arises out of her love of healthy, organic food. Back in her native England during the 1980's, she helped a friend run the legendary Odette's restaurant and eventually started her own – the first entirely organic establishment in the country, Elephants and Butterflies. "At the time there were vegetarian organic places, but none that also had organic meat," she explains.  
After moving to America, she became involved with the Yelm Co-op just three months into its existence. "I just loved the concept," she says. "I decided to volunteer to help. Because I'd had retail experience in my life, they jumped on it because nobody else had that." Soon, she was asked to be manager and buyer, and for five years was the primary buyer for the store.
The experience taught her something about herself. "Managing was not my strength; buying was my strength," she says. "I love buying. I have always loved looked at new things, and tasting." These days, she and General Manager Barnaby Urich Rintz travel to trade shows to try new products and bring back the best for Co-op customers.
Throughout her years with the store, she's noticed a common thread. "The customers make the co-op what it is. There is this core group, getting larger all the time, that will not let go of the co-op. They support it right the way through. The co-op just keeps going by the sheer will of its customers that want it to be there."
As for the future?  "It's been nice getting more involved with the community," she says. "I hope that more and more people will take a look at what we're doing and realize that eating good food is actually going to save them money in the long run."
*To learn which countries mandate labeling GMO products, click here.
Read More