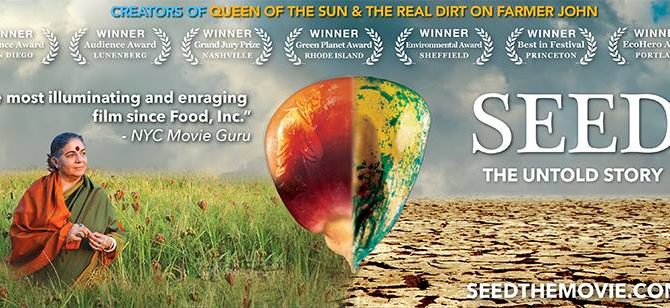 Q &

A with Directors and Seed Savers Follows One Weekend Only Showing
When filmmakers Jon Betz and Taggart Siegel began shooting "SEED: the Untold Story," they faced a challenge. How could they take a subject that many people don't know much about and make it important and inspiring enough that viewers would leave wanting to plant seeds of their own?
"Our focus is to get people to take the plunge," says Betz. "We have a campaign going with the Rocky Mountain Seed Alliance to create a million new seed savers." The directors also hope the film will inspire people to get involved both locally and globally in creating accountability within the agriculture industry. "Seed" provides a historic overview of mankind's connection with seeds, sounds an alarm about the loss of diversity in the past century, and highlights the efforts of those working to preserve what remains.
The stories featured in "SEED" span the globe, from activists marching against GMOs in Hawaii and native people of the Hopi nation working to protect ancestral corn to the challenges facing villagers in rural India. "We wanted to look at the cultures and the people who brought us ancestral seeds, to map the history yet tell the current story about the loss of diversity and the forces at play," says Betz. "Once you start peeling back the onion, the story gets complex."
The film comes to Yelm Cinemas this weekend for a two-night screening  and a Sunday matinee, followed by panel discussions. On Friday, October 28th Betz and co-director Taggart Siegel will be joined by a. Researcher Laurie McKenzie of the Organic Seed Alliance for a question and answer session after the movie. On Saturday night, Evergreen State College Professor David Muehleisen, Dave Mitman from the South Sound Seed Coalition, and Yelm's own longtime organic farmer and entrepreneur Susie Kyle will be on hand.
Betz and Siegel had already made "Queen of the Sun", a documentary about colony collapse among bees, when they came across a startling infographic: 94% of commercial seed varieties had been lost in less than a century. "We were no strangers to stories about eco-crises," says Betz. "We thought, if we don't know about this, that's an impetus to make this film. We want to get the word out."
The filmmakers were consistently amazed by the people they met in the course of the project. "These people are part of the fabric of our food," says Betz. "They're a really important part of a secure food future. We found that they took so much joy in the act of seed saving, and it was infectious. This is not some obscure, arcane thing. It's pragmatic and fun."
Aside from the seed savers they met activists and professionals working to counteract the influence of agricorp giants like Monsanto. "These are reluctant heroes who are fighting for our rights," says Betz. "Small farmers and lawyers are on the front lines fighting for the people in Hawaii, in India, and in Mexico. This really is a global issue."
Other countries have much stricter standards than the United States when it comes to monitoring GMOs and pesticides. "They sense the dangers of large chemical companies owning the majority of the world's seeds," says Betz. "People in the U.S. are waking up but it seems to be a slower process. The level of disconnect with our food in this country is very extreme."
They hope to change that, especially for people who have never grown anything from seeds in their lives. "We'll send you emails on how to grow your first bean and get the seeds from it," says Betz. "You can do it with children. Just dive into an understanding of what makes nature and our food so amazing."
Currently the filmmakers are one year into a two-year outreach and community engagement  campaign connected with the film. For more information or to find out how you can get involved, go to www.seedthemovie.com/take-action/ .
Read More