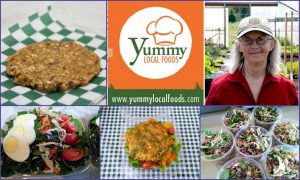 What is the Yelm equivalent of hearing your band's song played on the radio? Maybe it's walking into the Yelm Food Co-op and finding an entire section devoted to your products. That's what happened for Susie Kyle, who supplies the Co-op with Garlic Basil Supersauce, peanut butter protein bars, garden burgers, and quinoa salad. "They gave me a whole shelf in their refrigerator, prime real estate," she says.
Susie creates her concoctions at a rented commercial kitchen near Lawrence Lake that she also manages. Other food vendors, including Sandra's Hot Babe Hot Sauce, Colleen Gondolfi of Blooming Artichoke Herbary, and Blu Helida of Blu Nynja Dogs, also use the space for their businesses.   
The kitchen is the fulfillment of a dream that began while Susie was still running Winlock Meadows Farm in Lewis County. She started experimenting with different products and one day, discovered that she had become a food processor. "I still had my farm but I was in the kitchen most of the time," she says. "I finally realized that chapter was closed and it was time to move on."
She opened Local Flavors Market and began selling to local businesses, including the Co-op, which eventually became her only retail space after she realized it was more cost effective to do less. "I stopped selling to other stores and just kept the Yelm Food Co-op," she says. "It's been good because it's allowed me to experiment with products to see what people like. With larger stores I wouldn't have that flexibility."  Her next expansion phase includes commercial production equipment so she can increase her production capabilities before selling more.
Recently she completed an Enterprise for Equity training designed to help small businesses get off the ground and decided to rebrand her business as Yummy Local Foods. Customers can now order her creations online with pick-up and delivery options, and of course find them at the Yelm Food Co-op.
Most Co-op patrons are familiar with her products and have a variety of ways they like to use them. Here are a few ideas from Co-op shoppers and Susie herself :
Garlic Basil Supersauce
"It's a salad dressing, a dip, a spread, and a marinade on any kind of beef, chicken, or fish," says Susie. "You can use it as a sandwich spread or as a way to liven up any boring dish."
Garden Burgers
"They're made of whole grains and fully cooked," she explains. "All you have to do is gently warm them." Some people like to fry them, while others intentionally make them fall apart and put them on salads.
"My favorite is with scrambled eggs in the morning," says Susie. "That's my go to. You can put whatever you'd like on top. Sandra's hot sauce would be great with that. Some people pack it for lunch when it's still frozen and it thaws by lunch time."
Peanut Butter Protein Bars
These gluten-free treats are "almost a meal replacement" according to Susie. "A lot of people will stack them in the freezer. They're great for moments when you just need something."
Quinoa Salad
These have become increasingly popular, she says. They make great alternatives for people who want something fast but healthy. "When someone knows that they want something non-GMO, they can just run in and pick it up at the Co-op."
Making healthy alternatives to fast food available is all part of her focus on the bigger picture. "I've been working on preserving farmland and protecting our food supply for the last twenty years," she says. "I decide to farm because I didn't want corporations making my food choices. It's important to have healthy communities with strong local food systems."
One idea comes from a customer who loves Susie's quinoa salads. She makes a delicious, easy dinner by sautéing favorite veggies or whatever she has on hand, adding some cooked chicken or favorite protein, warming it all up along with the quinoa salad (curry is Susie's favorite to serve this way), and topping with some grated cheese and Hot Babe Hot Sauce. "This creates a yummy quick dinner that's good for you," says Susie.
To find her shelf at the Co-op, visit the refrigerated section, or just ask a staff person where her products are, then "taste to believe," her new tag line.
Read More