To all of our members, volunteers, shoppers, and supporters,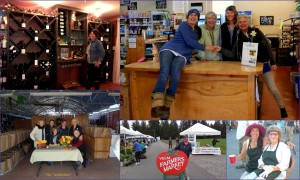 As 2015 closes we want to thank everyone who has made the continuing effort to sustain the vision of the Yelm Cooperative.
On December 6th the board hosted its annual celebration to recognize working members who put in time as volunteers in multiple capacities. "Many of them have been here for long periods and continue to make the commitment to keep the store going," says General Manager Barnaby Urich Rintz. Yelm Farmers Market Manager Karen Rae also hosted an end-of-season gathering for all of the vendors and volunteers that made the 2015 market possible.
Barnaby also acknowledged the store staff, many of whom have been part of the co-op for many years.  "They keep us moving in a positive direction," he says. But perhaps most importantly, the members and customers are what drive the evolution of the co-op. "Without them, it really doesn't matter what effort we put in," he says. "It's their decision to sustain our store by buying their groceries here."
The year saw changes and improvements on multiple fronts. Here are a few of the highlights:
Yelm Food Cooperative
Facilities and Equipment
The store installed a new misting system for the produce case and brought in a new two-door freezer. Anyone driving down Yelm Avenue can now enjoy new signs with the co-op logo on the front and back of the store. Currently efforts to provide new lighting for the signs and better lighting for the entire facility are underway.
Growth and Recognition of the Wine Cellar of Yelm
"Probably the biggest surprise for 2015 was the growth in the Wine Cellar," says Barnaby. "It's starting to reach the levels that Anne Marsh has anticipated." The Wine Cellar was voted 4th out of 105 wine shops in King 5's Best of Western Washington Contest.
Training and Development
In an ongoing effort to improve training throughout the store, the staff began meeting on a semi-regular basis with working members to discuss changes in store operations, recent improvements, and goals for the store. "We been working at improving our material internally for employees and volunteers," says Barnaby. "We update them and reinforce the updates through meetings. Both new and seasoned working members have the opportunity to review those manuals for improvement and input."
What to Look For in 2016
In the year ahead, says Barnaby, there is the potential for a full remodel, dependent on funding. "We hope to be able to provide better service by adding a full-service deli, fresh meat section and a beverage section," he says.
Yelm Farmers Market
Power of Produce
Over 600 children signed up for the new Power of Produce Program at this year's market. The program encourages children to make healthy food choices and have more awareness of where their food comes from and what they're eating. Every week flocks of children showed up with their red shopping bags to claim their $2.00 worth of tokens that they can spend on fruit or vegetables or a plant that grows food.
Sponsors
Both the business community and individuals stepped up and supported the market through sponsorships this year.
More Vendors and Live Music
The market included weekly live music this year, creating a wonderful atmosphere for browsing, tasting and interacting with all the treats on offer. Several great new vendors joined the seasoned veterans as well, contributing to a greater variety of offerings.
Record Breaking Attendance and Sales
On opening day the market broke last year's record with over 1,000 people in attendance. Despite this summer's heat wave, attendance and sales both exceeded previous year's totals.
Events and Projects
Beer and Brats
Sales were up from at this year's event, where volunteers braved the sweltering heat to serve over 400 bratwursts to the community.
Gift of Gobble
The Gobble team exceeded its fundraising goal this year, raising over $8,000 and feeding 126 local families.
Thank you for your support and Happy 2016!
Read More