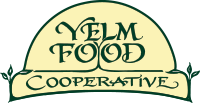 Watching the Baby Grow Up: Robyn Hawk on Yelm Co-op Then and Now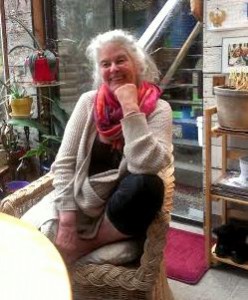 For Robyn Hawk, the Yelm Food Cooperative resembles a child she gets to see grow up. "It's like a baby that's been well-nourished," she says. She ought to know. Robyn has been volunteering almost since the store's inception, and she has seen all of the growing pains and changes that have occurred along the way. She is inspired by both the people who have stuck with it since the beginning, and the relatively new arrivals. "I wholeheartedly know that everything that goes on in the co-op is authentic and of pure intent," she says. "Everybody gives of their heart and soul, paid and not paid."
She remembers how the store began ten years ago. "A very small handful of people somehow got another small handful of people to get a fair amount of money so that they could start this co-op, based just on everybody's brilliance," she recalls. "Debbie Burgan, Tom and Jutta Dewell gave and continue to give their lives to it. Florence Vincent came in later, but she was amazing – because she was a different buyer. She researched everything and she was European. Rebecca Galbraith used to be there day after day in the small store. I'd say,'How can you be here and work so many hours?' She'd just be sitting on the stool."
The current leaders are equally dedicated, in her view. "Barnaby* is incredible," she says. "The board that we have now is extraordinary. Bill Wyman** and that group are visionaries. There are so many people who do things behind the scenes."
Compared to the early days of co-ops, she says, this store is extremely well run – and relatively tame. When she managed a co-op in the small town of Cave Junction, Oregon thirty-five years ago, "We used to meet the trucks on one of the side roads at 2:00 and 3:00 in the morning," she says.  "For a while the cops would stop us. We would just load the products from their pick up to our pick up and go to somebody's house." Twenty people would gather around a table at the local alternative school once a week to place orders and once their shipments arrived, they would weigh everything and divvy it up between customers. "It was the very beginning of co-ops," she says.
Today, volunteering at the Yelm Co-op allows her to fulfill a childhood dream. "Ever since I was a little kid, when we'd play house, I wanted to work with a cash register," she explains, "but I'm totally dyslexic. There's nowhere else on the planet that they'd let me run a cash register. It's so fun for me. I love it. Working at the co-op is one of my favorite things that I do."
*Barnaby Urich Rintz is the Yelm Food Cooperative's General Manager.
**Bill Wyman is the Yelm Food Cooperative's Board President.