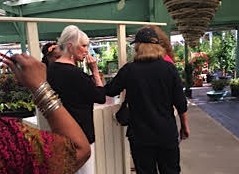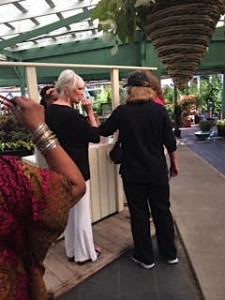 Get ready for a heady combination of art, wine, music, poetry, and flowers this Saturday as the Yelm Food Co-op hosts its second annual Art, Wine & Flowers in Gordon's Garden event. Anne Marsh, Virtuose de Vin at Wine Cellar of Yelm, has selected wines from six different regions in collaboration with La Gitana owner Marian Licxandru, who will be providing unique pizzas to complement each glass, and Gordon's Garden Center owner Kellie Petersen. "This is an awesome way to reach out and bring the community together," says Anne. "We can create something wonderful and support local business at the same time."
From 3:00 p.m. to 6:00 p.m., guests will have the opportunity to sample wines while being greeted by a volunteer sommelier in culturally appropriate garb. "Everyone can move through the six tasting stations at their own pace," says Anne. "The server will know their wine very well, and each tasty bite has been specifically chosen for that wine."
Four local artists will have work on display: Steve Cramer, Jenn Harshfield, Judy Chapman, and Sandra Bocas. Visitors can also enjoy the floral arrangements created by Kellie Peterson, designed to enhance the regional atmosphere of each tasting station. Classical guitarist John Chapman and poet Michael Apau will complete the ambience, with Apau wandering, minstrel-style, through the gathering.
Once they've finished tasting, guests are encouraged to buy the wine of their choice and journey across the street to La Gitana, where Marian will have the specially created pizzas available – and no corkage fee. But don't ask about ingredients. "I won't be revealing what the wines are until the day of the event," says Anne, "and the same goes for the pizzas."
Tickets are $40 for two prior to the event and $25 per person the day of, with a $10 charge for those who only want to view the art. "It's honoring the work of all of the volunteers who are contributing their time to put this together, including the artists, the people pouring, the musician, the poet and the people preparing food," says Anne. Proceeds from the event will go toward the Yelm Co-op's Wishlist of new equipment and features. Tickets can be purchased at the Co-op or by calling 360.400.2210.
"It's going to be a beautiful day," says Anne. "This is a way to raise money for the Co-op and support our local businesses, while enjoying great food, wine, and art in a really lovely setting."
Read More